Into Twilight. Our Trip To Forks / La Push WA
01/19/2009
Twilight may have brought me to La Push / Port Angeles, but its beauty
will have me coming back for years to come.
Jan 16, 2009
Depart Miami International 8am
Arrive Detroit 11:10am (freeeezing!!)
SPEED WALK from gate 73 to gate 17
Depart Detroit 12:17pm
Arrive Seattle 2:10pm
Drive to La Push 3pm
Arrive La Push 7:30 pm
Our trip to the world of Twilight was everything I expected and more.
The trip from Miami to Seattle and then to La Push, WA completely drained me. After our long flights we had to drive 4 hours to Forks. Once we arrived into the Forks area I had to pull into the 76 gas station and switch off with Sonnia. We were not only jet lagged but probably dehydrated. Sonnia passed me a chocolate bar (for energy) and we continued our drive down Forks Ave. The streets were dark and foggy, and we couldn't find the turn off to the Cabins. The annoying female voice coming from our navigation device had NO clue where we were either. The cell phone Sonnia bought had no signal. Summer's phone was the only one that worked but her father had it blocked. I was starting to panic; we were in the middle of some Friday the 13th path full of trees and darkness. We discussed our options; continue on this path which would surely drive us to Crystal Lake (home of Jason) or to CANADA... U-TURN!!!!!
The first place we recognized was Forks Outfitters; we hoped they had a phone we could use. I stayed in the car energizing myself with the rest of that chocolate bar while Sonnia and the girls went inside. Soon we were back on the correct route to our cabin. FINALLY we sat in our cabin eating pizza and discussing our drive. I made it to 9pm (La Push time) then I was OUT.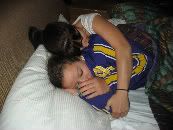 It wasn't until the following morning, (6:15am La Push time) when Sonnia and I walked out into the COLD, wet morning air of 1st beach that I realized just how worth it, this place really was.
Our reason for taking this trip was to bring the girls and ourselves as close to the world and characters of Twilight as possible. The Twilight series not only transcended me into a dazzling place where vampires and Shape shifters walk amongst humans, but it also held a sort of fresh dreamy air to it. It served as an escape from the mundane concerns of day to day life, punching of time cards, traffic, and the complete staleness of the every day.
Our first morning in La Push, I felt like a little girl at Christmas, rushing to get to the Christmas tree. As per our promise to each other, Sonnia and I were up before the sun rise. We were pulling suite cases apart not caring who's they were piling on socks, sweaters, gloves & hats. Only when we felt like we could survive a snow storm in Alaska did we head out into the dark, cold, wet air of 1st Beach. I grabbed my camera, looked back at Summer sleeping soundly on the sofa bed next to a warm fire. I pushed open the sliding glass door and stepped out onto our little porch. Sonnia and I both shrieked when we felt the sting of the cold air on our faces... ughghg it was SO cold! Moving forward not quite able to see far ahead of us we walked the little path that lead to what sounded like HUGE crashing waves. Through the rocks and over the fallen trees we climbed, we REALLY needed a flash light but made due with Sonnia's handy dandy Book Light!
Finally I felt the soft sand under my rain boots and looked up to see the most beautiful and brightest stars I have ever seen. I took my time looking across the sky first, and then slowly let my eyes rest on the dark crashing waters before me. The sand, the rocks and even the driftwood glittered. My whole body tingled as I inhaled the cool CLEAN air. I felt exhilarated, awake and in love.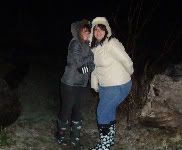 The full awe of 1st beach hit me after we woke the girls up, stuffed them into their clothes and walked back up the path to the sand. The night sky was gone and though it took with it the magical glitter of the stars and rocks, it was just as beautiful. The unseen now became clear. What I thought just minutes ago to be just a cold, wet obstacle course, turned out to be a page ripped out from the books and placed vividly, perfectly before me.
The dark gray sand held smooth black and brown pebbles and pieces of drift wood. The waves roared liquid poetry. To our left stood the cliff that separates 1st and 2nd, to our right another cliff far off into the water, where a small tug boat chugged away every morning at this same time.
After the dream like state was broken, we began taking pictures. Trees became our canvas. We had a blast climbing them. Sonnia and the girls held on for dear life as I set the timer and made a mad dash toward them just in time to capture some of the greatest memories of our trip. We even captured a picture of a lone La Push Doggy roaming the beach and of course we named him Jacob. Hmmm what if it was a girl? Oh well, Jacob it was and will always be to us. While taking the last of our "tree pictures" a strange man holding a long stick walks up to us and says... "Hello ladies..." we smile and try to continue with what we were doing. It was when he asked if we were Natives and said that he was "hoping to run into some pretty native women on the beach" that we realized... It was time to get outta there. I turn back to see Sonnia trying to get down from that HUGE tree, hanging on for dear life telling Nikki "Catch me Catch me!!" as she fell down to what she described as her "almost death."
Once inside we were in need of a little defrosting. Thank GOD for blow dryers. Summer got her booty blown dry by Sonnia, and Nikki and I quickly dried up by the fireplace in our cabin. I LOVE THAT FIREPLACE!!!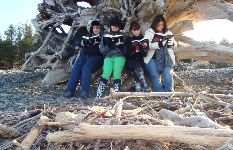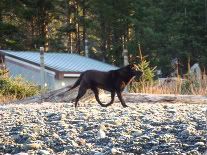 Once we were dry we headed out <3 making our way through the tree lined road heading into Forks. If I knew nothing about taking pictures BEFORE this trip, I soon became an expert. Drive by photography was not an option. We had to participate in every standing monument to this town. Our first stop "The City of Forks Welcomes you" sign. The city actually took the time to place a log and rail up the side of the road so that "Twilighters" like us could stand with the sign and document our entrance to Forks. (The little town chosen by Stephanie Meyer was perfect. Forks itself is small but full of friendly helpful people. Even my sister Maria, who gets lost in a city she has lived in for most of her life, would find her way easily around town. If you should find yourself turned about the wrong direction there is always a smiling face eager to help with directions or suggestions of places to go.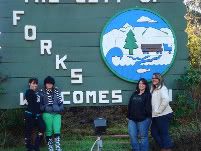 One of our must see places was a store called Dazzled by Twilight, (61 N Forks Ave) it is owned by a family who moved down to Forks from San Diego CA. If you're a fan, be sure to make this one of your stops, there's bound to be something in there you'd want to bring home as a souvenir. Before heading out to the Chamber of Commerce, for our Twilight Tour maps and info, we stopped at Sully's Burgers (220 N Forks Ave) where we had the yummiest "Bella Burgers" ever! (Single meat patty with Swiss cheese, lettuce, tomato and Pineapple with "special" sauce) The burger comes with a pair of Vampire teeth, very cute idea.
As soon as we drove up to the Forks Chamber of Commerce, we saw "Bella's" truck in front with a license plate that read Bella. After taking a couple quick pics we went inside where we were greeted by two friendly women. We were given a quick run through of the Forks map that held all of our points of interest. It was great to meet the Chamber of Commerce women. They went out of their way to call Storm King Mountain's Ranger to make sure the trail leading to the water fall was open. (Unfortunately the road to the Hoh Rain forest was closed) The actual Twilight tour took us about an hour to do. We stopped at the B&B in Forks, WA that was chosen as Twilight Saga's Cullen House. (Miller Tree Inn) they had a cute sign out front for the twilight guest. The sign read: "Too much sun predicted for forks this week, so all of the Cullens are out searching for a nice, dark, cloudy place. Our overnight guests will be cared for by our resident innkeepers, as usual Thanks, Esme" LOVED IT!!
At Forks Community Hospital we found a sign that reads "Dr. Cullen reserved parking only". We followed this by visiting the police station, which was extremely small compared to what we are used too here in Miami. One small office served as the Police station, another door was marked Clerk of courts etc... Next stop Bella's House.
Teachers Kim and David McIrvin volunteered their home to represent Bella's home. There is a sign outside that reads "Home of the Swans" I read somewhere that this house was chosen because it is one of the few two-story homes in the city. "In a twist of fate, the house has similarities to the fictional inside as well as outside; there is a room that is painted blue and there are yellow cupboards just like in the book."
As we drove away from the Swan house, we pointed out houses that we thought could be considered Jacobs House. Of course we each had different ideas of what his place would look like. It's interesting how different we all perceive the homes to be... Even the characters look different to each of us. What do they look like in your mind? Forks High School sat on a corner right by a church. As we stepped out of the car to take our pictures by the Forks High School sign, we noticed smoke coming out of the navigation device. Oh oh... NOT good... We needed to be navigated... Sure the female voice was annoying at times but there was no way we could get back to the Seattle airport without her. I decided to call the Enterprise rental car in hopes of finding a local office so that we could replace it. NO LUCK! Instead she asked me for my name and info promising to credit our account for the broken navigator... (To this day I am known as Taco... that's as far into my last name as she let me spell before thanking me and hanging up) Lucky for us we found a little glass tube, (fuse?) taped to the cable and we used it to reconnect the navigation device (whoo hooo MacGyver) Like I said before Forks is small, and so we were very quickly done with our tour.
We made our way to Forks Outfitters to shop for some groceries before heading back to our cabin in La Push. This was supposed to be the place Bella shopped for groceries when she moved in with Charlie.
Bella Italia in Port Angeles held our reservations for Dinner at 8pm. The drive to Port Angeles from La Push was different in the light. It was Gorgeous BUT still felt very dangerous. You Drive around the Peninsula... I call it "Cliff driving"... we encountered LOTS of fog and many signs that read FALLING ROCKS... what?? What!!! (Scary but beautiful) We get to Bella Italia (home of Edward and Bella's 1st date) just as the sun goes down. It is FREEZING!! The restaurant is just as I pictured it. Not too small with a romantic setting. Our waitress was very nice and the food was AMAZINGLY good. No, we did not have Bella's dish (mushroom ravioli) the rest of the menu was way too yummy to pass up. Our plan was to finish dinner and go next door to the Movie Theater to watch Twilight for the... 3rd time! BUT the next showing was at 9:30pm and it was WAY too darn cold to wait around plus we had an hour drive back to La Push and you have to be alert for the drive back up the dark foggy cliff. Sonnia bravely took on that duty while the rest of us, one by one fell asleep in the car.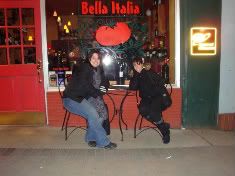 The following morning, our LAST morning in WA, we woke up and took a drive back up toward Port Angeles to Mount Storm King a minor peak located above the east end of Lake Crescent, just west of Port Angeles on US Highway 101. We wanted to see the Marymere falls.
On our drive up we saw snow on the side of the road, we were so excited we climbed out of our car and ran toward the snow. (We thought this was as close to snow as we were going to get) Being from Miami and not having been in snow for a LONG time, some of us NEVER before, we wanted to take pictures in it. We stopped on the side of the road twice, getting stuck in it up to our knees and snapping a couple hilarious pictures, before continuing our drive.
Once we got there, we were greeted by the cutest little birds. They were shy at first but soon we had them eating out of our hands. Again words can't describe the beauty of the drive there or of the actual place. The hike up to the waterfall was breathtaking, not only because I'm out of shape, but because of its beauty. This was my first waterfall. I could have sat at the top of that trail forever. All in all, except for Summer getting tackled down by Nikki in the forest on the way to the waterfall, this experience was perfect!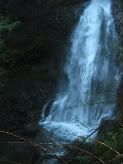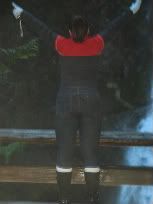 (By the way this place was FULL of snow. So all that stopping on the side of the road wasn't necessary.. Eh it was worth it just to see the girls fall in it and the pictures are priceless)
Once we got back to Forks, we drove up to a little coffee trailer where they have the YUMMIEST white mocha coffees. These little trailers were EVERYWHERE!
As we drove back to our cabin in La Push, we stopped at 2nd beach. Sonnia and I wanted to take a look at it. I felt I would regret it later if we didn't at least stop and see it.
(So note to self, 2nd beach has the LONGEST trail leading to the actual beach)
We started our hike with a hot coffee in hand, bundled up in our warm clothes. I felt foolish when we came across a couple kids dressed in shorts and T-shirts BUT I WAS WARM!
We walked and walked and walked and walked. I eventually asked a hiker coming back from the beach if we had much more to go... I think I saw him smirk as he said... "Just a couple steps to the clearing and then straight down from their"... Sonnia looked at me and asked "what does he mean?" Did he mean? A couple steps like two or three and then the clearing? Was this the clear view of the beach after the short couple steps?? NO... this turned out to mean ACTUAL looooong row of steps down to a clearing where you can just see the beach through the trees... Where, you would then take the rest of the trail to the actual beach. We tried we really tried to make it to the beach. At this point we had our jackets off. My 35-year-old knees were hurting and we had just encountered a creepy guy in the middle of our hike that was walking in that eerie way they walk as they STALK YOU and murder your ass. Every scary movie I've seen involving a forest (The Ruins) was playing in my head.
We took a picture of the beach (what parts we could see in between the trees) and we headed back to the car. Took us about an hour round trip.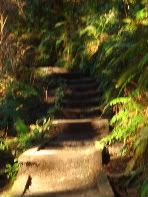 When we arrived back at our cabin in La Push, we were on a mission. We were going to build a fire at a perfect spot we picked out earlier that morning, we were going to make Smores and talk about the books while we enjoyed the beach at night.
Sonnia and I walked over to the little store right by our cabin and bought a starter log. We prepared our fire (whoo hooo thank you Survivor) and called the girls out. The sun was setting just as we sat down. First let me say Smores are not as easy to make as I thought. Maybe it was the fact that FIRES are hard to keep going when all you have is humid driftwood and dried tumble weed type stuff. We got maybe 4 Smores done and the fire was out... BUT I was proud of us... We built this fire dang it!! And we had our Smores... We did well! We did everything we said we would do.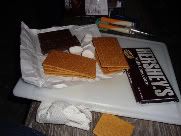 All except take pictures in the big whirlpool bath tub... But after we were all bathed and in our pajamas we commenced the last of our silly pictures.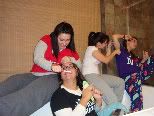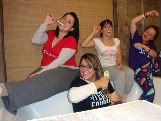 The reality was setting in. This was our last night here. I wrapped myself up in a blanket... well in our comforter... and sat outside on the deck. I watched the stars that had welcomed us that first night. I closed my eyes and listened to the last words I'd hear the waves say. I took it all in, the trees, the chair I was in, the sky, the breeze all of it. I thanked the heavens for allowing me to feel what I was feeling at this very moment, for our trip, for the opportunity to spend it with my daughter. To share this world with her has meant so much to me. I took a deep breath, gathered myself up, wrapped the comforter a little closer and just before walking through the sliding glass door I said my goodbyes promising to come back soon.
This was now our place a place that I can always come back to. Whether it's right before I close my eyes at night, or when I minimize my screen at work and gaze into the picture of the sunset through our cabin window. This is the place I go to when I need a little escape. I look forward to taking my family back there and sharing with them this beautiful poetic world. Sure they may come kicking and screaming at first. But they will leave as I did... floating on cloud 9.
After reading my blog Sonnia and Nikki reminded me of a couple things I want to document here so I won't ever forget. Little things that made our trip that much more memorable.
~GAH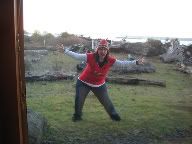 ~ Summer's Crack every where
~ Listening to the audio books in the car EVERY TIME we went anywhere
~ Sol Du River & little bridge that looked like the entrance to Jurassic Park every
2 miles
~ The Super Hot guy at the gas station our first morning there (Edward?)
~ Nikki & Summer fighting with snow/ ice & trying to hit us with it
~ Waking up at 3am, walking over to the bedroom to ask Sonnia if she was cold
~ Chef Boyardee, hot chocolate and Interview with a Vampire by the fireplace
~ Triscuits & canned Cheese (yuuumy)
~ Freaky guy sitting next to Nikki and Summer on the plane
~ Farting lady on the same plane ("must have been all that BBQ pork " ...she said)
~ Smuggling of La Push (1st beach) sand, pebble's & pieces of drift wood
~ Sonnia ripping Summer's Cullen Crest necklace off the top of her head at the
airport, in order to get past security check point
~ Nicole & her frustrating use of the phrase "Oh because"  or ... "too bad that"
~ The Russet colored dog that approached our cabin before being frightened away by Sonnia yelling OH MY GOOOOD!!!! (In her defense the sliding glass door looked like it was open)
~ No toothpaste on that 1st morning
~ Almost crashing into NOTHING on the highway out if Seattle
~ Professing our love for Jacob & Edward on the sand of 1st Beach
~ Dragon looking tree next to the cabin
~ Laying on that mossy ground pretending to read & using a kitchen bowl to hold the
camera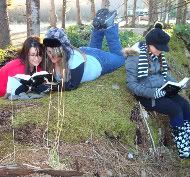 ~ Annoying voice of the stewardess
~ Laying out the stinky wet socks to dry on the counter
~ Floating vampire deer fog we almost hit on the scary drive to Port Angeles
And last but certainly not least
~ Soul in the pocket
Or as Nicole and Summer would say ...Sonnia's pocket with her soul sitting in the house wearing summer's panties having coffee with Tristen.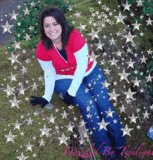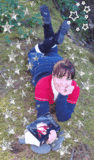 Tweet